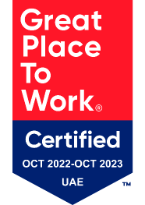 ​Charterhouse Middle East are proud to announce that we have been certified as a "Great Place To Work". Within an industry sector where diverging views can exist on what is a good and conducive work environment; Charterhouse has stood strong in our core principles whilst always trying to achieve strong work practices allowing for a business success, personal development and a gratifying work-life balance. Through an assessment of our work culture, office environment, business performance, prospects and rewards; our staff have been confidentially surveyed to allow for this certification to be achieved along with some merit ratings.
At Charterhouse, we believe that our longevity of brand, quality of service and delivery has allowed our business culture to evolve in line with our industry presence, business offering and the markets we service. Our four main business lines span GCC search and selection recruitment, RPO services and an interim labour solutions platform, and this award is also a recognition to all our regional staff whom contribute to the work culture and environment created.
Charterhouse Middle East also recognise the need for strong leadership and the management continue to pursue active incentives, perks and working schemes that can promote further positive contributors for staff. Quite often, the small things count and whether it's your birthday bonus day- of-leave, monthly incentives, flexibility on office hours or tailored leave breaks, Charterhouse actively implements set HR policies to meet these needs. This is also a reflection of how a business needs to acknowledge how staff are challenged within their role, market or simply their geographical location as an expatriate.
Finally and also importantly, Charterhouse is a local player. We know the region and have centralised teams based here. Our PRO capability and finance policies are highly demonstrable and our staff are supported with strong governance and a compliance support that should not be overlooked.
Thank you and we look forward to a continuation of these core deliverables and scorecards. To learn more about "Great Place To Work" and their global brand recognition and performance evaluations; please visit:https://www.greatplacetowork.me/what-is-great-place-to-work